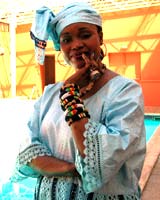 —Oumou Sangaré is one of the first important ambassador's of Wassoulou. She composes her own music which is substantially devoted to women's rights. She sang about difficulties for women in her society, which included polygamy (and abuse of polygamy), and mistreatment of women incapable of childbearing. Wassoulou music followed Oumou's lead in this sense: most singers are women and the lyrics are typically geared toward women's rights.
—Oumou's music has been inspired by the music and traditional dances of the region. sogoninkun is an elaborate dance that is frequently used with Wassoulou music. Also, this Wassoulou music video features African dance.

Here is one web-biography, and here is another biography.
Take a look at my next page, another important Wassoulou vocalist: Nahawa Doumbia

Author: David Velardo