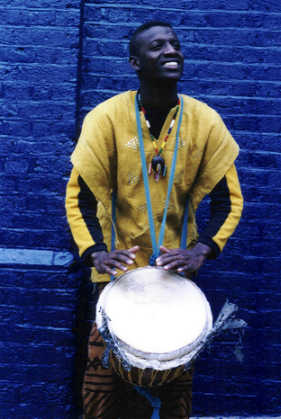 Seckou Keita was born in Ziguinchor, Senegal in 1978 to a family with griot roots.  He is a unique musician in that he is extremely proficient in two instruments – the kora and the jembe.  Keita is famous for his kora-playing, which made him an international success, but today it seems that he spends a large amount of his time teaching jembe drumming (perhaps because of the more widespread international interest in the jembe).  From 1995-1999, he taught at schools in Senegal that served mainly Norwegian, Danish, and British tourists.  Today he frequently tours and teaches workshops around the world.
Official website.  Go to "Drumming" section to see a list of organizations he works with as well as forthcoming workshop dates.
Video clip: Keita demonstrating a jembe solo
Video clip: Keita performing for jembe students
R. Choi
No Comments » Last modified on Mar 5th 2008
Leave a Reply
You must be logged in to post a comment.