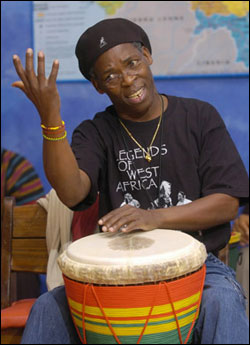 Mamady Keita, born in 1950 in Balandugu, Guinea, is not from a family with a traditional background in music, but he displayed true natural talent for the djembe at a very young age.  As a teenager, he played in the National Ballet of Guinea (Ballet Djoliba), and after several years, Keita's reputation brought him to Belgium, where he began teaching at a music school called Repercussions.  Since then, Keita has been releasing CDs, teaching workshops around the world, playing with his own ensemble (Sewa Kan), and formed his own drumming school in Brussels called Tam Tam Mandingue in 1991.
Video Clip: Mamady teaching a workshop in Taiwan (2007)
Video Clip: Sewa Kan concert (1989)
R. Choi
No Comments » Last modified on Mar 5th 2008
Leave a Reply
You must be logged in to post a comment.