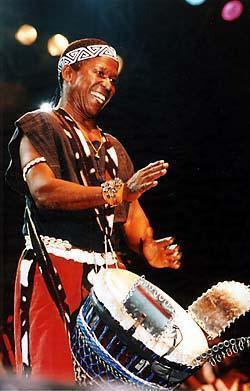 Famoudou Konate was born in Sangbarala, Guinea in 1940.  At the age of 19, he was recruited into the National Ballet, where he became lead drummer until 1985.  Konate now frequently tours and teaches workshops around the world.
A calendar of Famoudou's 2008 workshops. 
He will be in the U.S. and Canada this May, June, and July!
Video clip: A performance during a workshop in Italy (2003)
Video clip: Famoudou performing with Chicago Djembe Project (2003)
R. Choi