Batrou Sekou Kouyate is shown below.
Photo credit: Oliver Gresset
Most kora musicians are concentrated in Mali, Guinea, Senegal, and The Gambia. The vast majority of kora musicians come from Jeli families, hereditary musicians that can trace their lineage back to the Sunjata epic of the 13th century, when the Mande empire was established in West Africa. Today's most famous kora musicians, such as Toumani Diabate and Mamadou Diabate are indeed the sons of an older generation of kora musicians. This older generation composes of masters such as Sidiki Diabate and Batrou Sekou Kouyate, who helped establish the kora as one of the most complex and rich instruments to come out of West Africa and reach listenersworldwide. This post looks at a particularly distinguished group of kora musicians from Mali, who are the sons and fathers of the modern revival of the kora.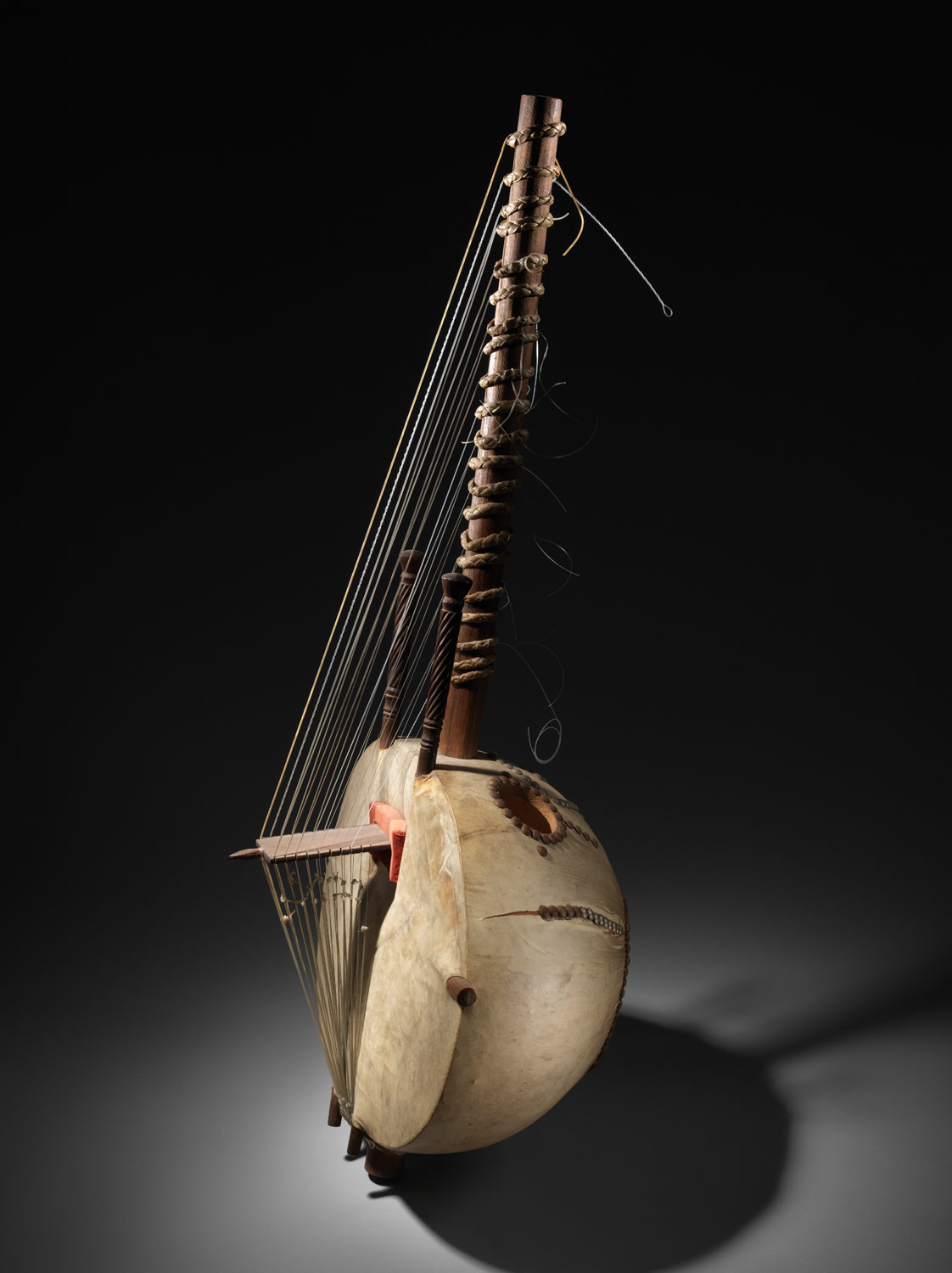 Photo credit: Metropolitan Museum of Art Online
The Malian Old Guard
Sidiki Diabate is considered one of the godfathers of the modern kora. Sidiki was born in The Gambia but immigrated to Mali, where he joined other kora players in Bamako, establishing the National Instrumental Ensemble and paving the way for emergence of the kora on the world music scene. Along with Sidiki, Batrou Sekou Kouyate is considered one of the greatest Malian kora players of the twentieth century, and the two pioneered solo and duet performances of the kora.
Djelimady Sissoko and N'fa Diabate were also important kora musicians in Mali, and like many jeli musicians, they could all trace their lineages back many generations. These four Malian kora musicians brought a new worldwide voice to the kora during the 1970s and 1980s.
"The King of Kora" Sidiki Diabate in Bamako.
Unfortunately, recordings from this old guard are difficult to find. After all, kora music had not yet broken onto the word music scene, and internet sites such as Youtube and Myspace were still unavailable.
"Cordes Anciennes" (Ancient Strings), recorded in 1970, is one of the most notable kora recordings featured these four master musicians. It was also one of the first recordings of the kora available to listeners around the world, and became a symbol of Malian national identity. The album is still played on Mali's national radio during important occassions, such as Independence Day. This recording helped introduce the kora to a broader audience, and thereby launching the careers of the next generation of kora musicians.
(album from Amazon.com)
Cordes Anciennes is available for purchase and for listening here [from amazon.com] and here.
Some useful information on these kora masters and the album can be found at mali-music.com.
The New Generation: Sons of the Old Guard
What is particularly remarkable about this Malian "Old Guard," aside from their talent and entrepreneurship in reviving the kora, is that they ensured that the kora tradition would continue flourishing by way of their sons. Indeed, this handing-off to this younger generation is quite appropriate given the hereditary nature of Jeli music. Toumani Diabate (Sidiki's son), Ballaké Sissoko (Djelimady's son) and Mamadou Diabate (N'fa Diabate's son) are among today's preeminent kora musicians.
Toumani Diabate, Sidiki Diabate's son, in Bamako.
More information on Toumani Diabate, the son of Sidiki Diabate, can be found in another post on this blog, here.
As all Jelis do, Toumani Diabate and Ballaké Sissoko have capitalized on their distinguished lineage and produced a "sequel" to the original Cordes Anciennes album, aptly titled New Ancient Strings. Ballaké and Toumani grew up as next door neighbors in Bamako, "developing similar but complementary styles," according to the New Ancient Strings cover insert. The album presents new versions of classic Malian pieces, such as Kita Kaira, which were first made famous by the "Old Guard" of Malian kora music. This album is available for purchase and listening here:
New Ancient Strings [on amazon.com]
Ballaké Sissoko replaced his father, Djelimady Sissoko, at the National Instrumental Ensemble at the tender age of 14. Ballaké, like many other Mande musicians of his generation, has worked with artists of other musical traditions. Ballaké has also stayed close to kora traditions, performing traditional pieces with Toumani on New Ancient Strings. Ballaké has helped the kora expand with virtuosic performances, and a willingness to respect tradition while embracing new, creative collaborations.
Ballaké Sissoko plays solo at a workshop here, collaborating with Thee, Stranded Horse here, and Ross Daly here
Ballaké's albums, Deli and Tomora can be purchased on Amazon.
More information on the artist can be found here.
Mamadou Diabate the son of N'fa Diabate, is another member of the new generation of kora masters. Mamadou is now based in the United States, after touring with the National Instrumental Ensemble of Mali in 1996. Since moving to Durham, North Carolina, he has taken full advantage of his new surroundings and performed with American jazz and blues artists. Of the new generation of kora players in the United States, Mamadou is one of the most prolific and innovative in working with other musical traditions.
Mamadou is shown here in a lovely performance with a leprechaun bassist, and is later joined by others.
Part I , Part II , and Part III
With a fellow jeli balafon player, also named Mamadou Diabate: Kora and balafon video

Mamadou with an ensemble at the Grassroots Festival in Trumansburg, New York (he doesn't show up until the middle of the video)
Mamadou's websites are here and on Myspace


His albums are available for purchase on Amazon: Tunga, Heritage, and Behmanka
The Kora tradition
This post has documented an exceptional group of Kora musicians, who have helped give the kora a new voice around the world. This group is particularly noteworthy because of its strong ties between an older generation of kora masters and a newer generation. Furthermore, this group helped revive the kora in Mali, and later, worldwide.
It has not, however, explored the great kora tradition that exists outside of Mali. The father-son relationship is pervasive among other notable kora masters. Kora masters such as M'bady Kouyate from Guinea, have also been instrumental in the kora movement. M'bady often performs with his wife, a Jeli singer. M'bady can be viewed on Youtube here, playing with his wife.
M'bady's son, Kandia Kouyate, has followed in his father's footsteps on the kora and has moved to France. A video of him playing as a 14 year old is available on Youtube here.
Alhaji Papa Susso (or simply Papa Susso), from the Gambia, has also played a major role in reviving this rich musical tradition. Like many kora musicians in the older generation, Papa Susso has generated attention by playing in a more traditional style of the kora. Papa Susso has been especially active in giving the kora a new voice around the United States, playing twice at Carnegie Hall and even took up a teaching position at UC-Santa Barbara. A biographical link is at Oberlin College here.
A youtube link of Papa Susso performing at a workship is here; note the presence of buzzing devices on the kora.
Almost all kora musicians today have pointed to their distinguished lineages, almost as a form of validation or legitimization. But today's kora musicians are not simply looking to carry on a tradition, but also to expand the scope of the kora and guide it in novel, creative directions. Modern musicians such as Seckou Keita have revolutionized kora music, collaborating with musicians from other traditions. Seckou Keita, who hails from Senegal, has even used a double-head kora, and played the kora while standing and dancing (youtube video), as opposed to sitting and stationary.
Next time you're around a kora musician, ask him who his father was (kora musicians are almost exclusively men), and he will likely be able to recall a long genealogy of jeli musicians. Because of the hereditary nature of kora musicians, chances are he will come mention a distinguished lineage such as the Kouyate, Diabate, Sissoko, Keita, etc. Many kora musicians today aim to draw on both the rich traditions established by their forefathers, while exploring new and exciting ways of playing the kora.
Notes:
All album covers displayed here are from Amazon.com, and available by clicking on the appropriate album links.
Excellent photographs of kora musicians (those shown here) can be found on Photographer Oliver Gresset's website.
More information on kora musicians and purchasing albums can be found at the Cora Connection Catalogue
A documentary (in French) with M'Bady Kouyate is on youtube here: Part I, Part II, and Part III
Some good academic resources:
Charry, Eric. Mande Music. Chicago: University of Chicago Press, 2000. Pages 115-121.
Knight, Roderic. "The Mande Sound: African Popular Music on Records." In Ethnomusicology 33, no. 2 (1989): 371-376
As of March 6 2008, all links work.
–Submitted by Cedric Bien